B.Tech (Bachelor of Technology) Course, Eligibility, Subjects, Exams, Admission, Careers, Scope
What is B.Tech?
Bachelor of Technology is the full form of B Tech, is a highly preferred undergraduate course in India. A degree in Bachelor of Technology is often considered as a gateway to the field of engineering. The Btech course duration is between three to four years, depending on the country and the institution. In India, the duration to complete the degree is four years, spread over eight semesters. BTech course fees vary from Rs. 1 to Rs. 4 lakh per annum, depending on the type of institute, and course applied for. In this article, we will discuss the details of B Tech courses, B Tech full form, B Tech subjects, how to get BTech degree.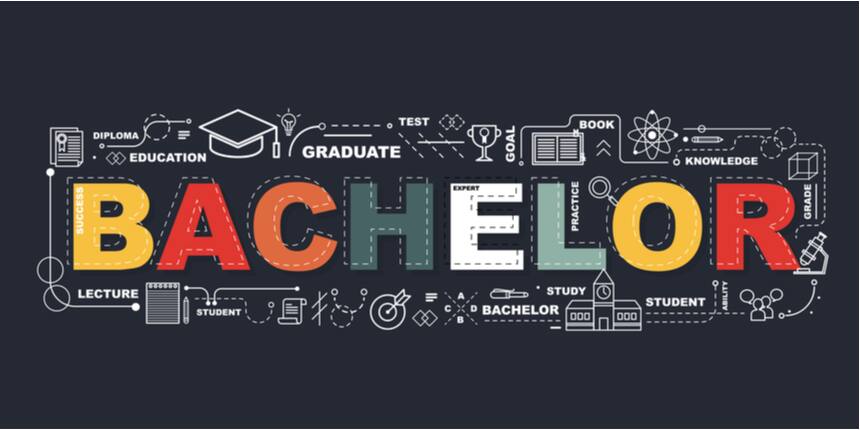 Bachelor of Technology (B.Tech) Courses
The alternative course to Bachelor of Technology is Bachelor of Engineering. BE is more of a theoretical-based program while a Bachelor of Technology is based on practical learning as well as theoretical learning.
What is B Tech full form?
The B Tech full form is Bachelor of Technology, is one of the most popular engineering courses for candidates from PCM branch. Various colleges and education institutions specialised in offering the BTech course.
Highlights - B.Tech Course
| | |
| --- | --- |
| Particular | Value |
| Name of Degree | Bachelor of Technology |
| Level | Undergraduate |
| Duration | Four years |
| Semester/Yearly | Semester |
| Admission Process | Entrance test followed by counselling by the authorities. |
| Eligibility Criteria | Should have completed 10+2 in PCM or PCB from a recognized institute/board |
| Course Fee | Rs. 5 lakhs to Rs. 12 lakhs per annum |
| Top Institute offering Admission | IITs, NITs, IIITs and GFTIs along with some private institutes such as VIT, BITS, MIT and more |
| Top Recruiters | Google, Apple, Hindustan Unilever Ltd, ISRO, Microsoft, Amazon, Flipkart, Intel, TATA Consultancy and more |
| Types of Careers | Civil Engineering, Mechanical Engineer, Computer Engineering, Electrical Engineer, Marine Engineer and more |
B.Tech Eligibility
For admissions into B.Tech. programmes, the students will have to qualify the 10+2th examination from the science stream from any board. If a student is interested or wants to get into a B.Tech. the programme, it is advised that he or she has the PCM (Physics, Chemistry, and Mathematics) group as the main subjects, as individuals from this subject group are preferred for the programme.
The above-mentioned way is the regular method to enter the programme, however, there is a second method which is by the way of a lateral entry scheme. With the help of the lateral entry scheme, students who have done a diploma in engineering domains are eligible to enroll in a Bachelor of Technology programme in the second year.
The lateral entry scheme is meant for those students who have joined or are doing diploma courses after 10 or 10+2 in various technical trades and aim to gain admissions to B Tech courses in the second year, offered by various engineering institutes and colleges across India.
In short, the basic eligibility to gain admission for Bachelor of Technology or B Tech courses are that a candidate should have completed 10+2 in Physics, Chemistry, and Mathematics (PCM) or should have done a three-year diploma programme in any engineering stream to gain admission through lateral entry in the second year.
B.Tech Admissions
Engineers are some of the highest-paid professionals across the world, especially in western countries, so it is naturally a dream for many in India to make a career in the engineering field. The aspiration to become high-earning professional drives many to take admission in engineering courses. In India, becoming an engineer is something most of the science students strive for. Therefore, the competition to gain admission into the top engineering institutes of India is quite intense.
To ensure that only the best are granted admission, there are various entrance examinations or tests for Bachelor of Technology or B.Tech. courses offered in institutes across the country.
Entrance examinations such as JEE Main, JEE Advanced, BITSAT, AP EAMCET help the institutes to screen students according to merit. These entrance examinations test the prospective engineering students on the basics of engineering, which is in line with their 10+2 syllabus. Based on the performances in the above-mentioned entrance examinations, individuals are selected and further screening processes take place, before finally gaining admission to B.Tech. programme.
Also Read: Engineering and Architecture Certification Courses
Top B.Tech Exams
There are various entrance examinations for gaining admission to B Tech courses that are offered by various institutes. The entrance examinations can be divided into national level entrance examinations, state-level entrance examinations and institute specific examinations. Here, we are going to divide and explain the entrance examinations according to national, state and institute specific examinations.
National Level Examination for B.Tech
National level examinations are those entrance examinations that are organised and conducted to select the right aspirants for admissions into national level engineering public institutes. There are several private institutes as well which accept and consider scores in these examinations and these entrance examinations also form a part of their admission processes for their B. Tech. courses.
The two important national entrance examinations are as follows:-
JEE Main – JEE Main is a national level engineering entrance examination that is used for selecting and screening those individuals who are looking to gain admission to B.Tech. courses in institutes such as National Institutes of Technology (NITs), Indian Institutes of Information Technology (IIITs) and Government Funded Technical Institutes (GFTIs). However many state and private colleges also accept JEE Main scores for admissions. JEE Main entrance examination also acts as an eligibility test for JEE Advanced.
JEE Advanced – JEE Advanced is the screening examination for students seeking admission into Indian Institute of Technology (IITs).. Those who come under the top 2,50,000 candidates in JEE Main will be termed eligible to attempt JEE Advanced.
State Level Examinations for B.Tech
Similar to national-level examinations, several states conduct state-level entrance examinations for B.Tech. courses offered in government institutes. Again, several private colleges accept scores of these entrance examinations. Some of the state-level entrance examinations are mentioned below.
WBJEE – West Bengal Joint Entrance Examination is conducted by the West Bengal Joint Entrance Examinations Board (WBJEEB). It is conducted for those students who are interested in gaining admission into the undergraduate engineering courses offered by the participating institutes.
B.Tech Institute Specific Examinations
Apart from government institutes, several private institutes offer BTech programs. Several private institutes conduct their entrance examinations for admission purposes.
BITSAT – As the name suggests, BITSAT is conducted by Birla Institute of Technology and Science, Pilani for students who are interested in gaining admission in B Tech courses taught at BITS Pilani and other campuses such as BITS Goa and BITS Hyderabad.
VITEEE – VITEEE is conducted by the Vellore Institute of Technology, for those who are interested in gaining admission for B Tech courses offered at the institute's Vellore and Chennai campuses.
SRMJEEE - Conducted by SRM Institute of Science and Technology, this university-level engineering entrance examination offers B.Tech admissions to eligible students into its various campuses. Allotment of seats will be done strictly on the basis of performance in the entrance examination and the preferences of the students.
Types of B.Tech
Bachelor of Technology (B.Tech) is in itself a type of technology course. There are no other types of B Tech courses. The programme is an undergraduate degree course that will help the students to gain specialization for better career opportunities in the future.
Browse B.E./B.Tech Colleges by City
Browse B.E./B.Tech Colleges by States
B.Tech Specializations
As a B.Tech student, there are various specialisations an individual can opt for. Some of the specialisations that are popular among those who are interested in entering the field of engineering are given in the table below:
Table of B.Tech Specializations
Skill required for B.Tech
It is important for an engineer to not only possess great technical skills but also social and emotional intelligence. Compassion, empathy, insights, knowledge, logic, and skill must all combine. If the person has a curious, creative, and innovative mind who likes to dig deeper into problems and apply logical thinking and reasoning then engineering is a profession they could look into. B. Tech, through its four-year full-fledged learning path, teaches prevalent and useful technical skills along with interpersonal skills. It develops a team spirit in students, helps them to be more accurate and precise, provides a platform to improve their communication skills, and teaches them resilience and self-discipline.
Popular Online Engineering Courses and Certifications
Bachelor of Technology (B.Tech)- Advantages
There are numerous advantages of a Bachelor of Technology programme. Individuals who have an interest in invention of things or they are filled with curiosity how instruments, machines or software are developed. Then a Bachelor of Technology is a programme designed for them to provide them with right career opportunities. Depending on your interest, you can opt for any specialisation such as B.tech in computer science and engineering, B.tech in textile engineering, B.tech in mechanical engineering, B.tech in electronics and communication engineering and numerous other specialisations.
B.Tech Syllabus
There are various B Tech subjects that are different for different specialisation. During admissions, students will have to choose their B Tech courses. The B Tech subjects of first year is the same for all B Tech courses.
| | |
| --- | --- |
| First Semester | Second Semester |
| Joy of Engineering | World Civilizations |
| Communication and Presentation Skills | Data Structures |
| Workshop Practice | Writing Skills |
| Computing Fundamentals & C | Environmental Studies |
| Chemistry | Mathematics-Il |
| Mathematics-I | Physical-ll |
| Physical-l | Basic Electrical and Electronics Practice |
| Third Semester | Fourth Semester |
| Mathematics-III | Emerging Life Sciences |
| Critical Reasoning & Systems Thinking | Emerging Material Science and Applications |
| Engineering Drawing & Computer Aided Graphics | Object Oriented Programming |
| Etiquette and Conversational Skills | Data Base Management Systems |
| Computer Organization and Architecture | Computer Networks |
| Discrete Mathematics | Design and Analysis of Algorithms |
| Fundamentals of Digital Logic | Operating Systems |
| Fifth Semester | Sixth Semester |
| Understanding Business | Contemporary Challenges: Societal & Political |
| Selling, Negotiating, and Persuading Skills | Machine Learning and Data Mining |
| Software Engineering | Cryptography |
| Optimization Techniques | Internet of Things |
| Artificial Intelligence | Mobile Architecture and Programming |
| Microprocessor Based System Design | - |
| Seventh Semester | Eighth Semester |
| Innovation & Entrepreneurship | Practice School-III |
| Good Citizenry | - |
| Distributed Systems | - |
Scope of B.Tech
Those individuals who have completed their B Tech courses are called engineers. Depending on the specialisation, the prefix will be added to the engineer. For example, if the individual has completed in computer science and engineering, then he or she will be called a computer engineer or those who have done in nuclear science will be called a nuclear engineer. Those who have done B.Tech course can either start working or go for further studies and do their Masters and beyond.
Popular Engineering Colleges in India
Careers Opportunities after B.Tech course
Listed below are some of the career opportunities as per the specialization selected by the candidates after completing B.Tech:
Computer Science Engineer: Also known as a computer engineer, looks after the developing, testing, and evaluating the software that makes computers work. They often help in developing software and computer games.
Mechanical Engineer: Mechanical engineers primarily design machines that produce power. These machines can be in the form of electric generators, internal combustion engines, turbines, refrigerators and even air-conditioning systems.
Civil Engineer: A civil engineer is a professional who uses the application of planning, designing, constructing, maintaining and operating infrastructure while keeping in mind the environmental impact and public health.
Automobile Engineer: Automobile engineers are professionals who assist in the development of passenger cars, trucks, buses, motorcycles and other vehicles. Automobile engineers are also involved with designing products and alter the existing ones.
Marine Engineer: A marine engineer is a professional who designs, constructs, tests and restores ships, boats, underwater craft, offshore platforms and drilling equipment. A marine engineer often works in tandem with naval architects in order to design all types of sea vessels.
Aeronautical Engineer: An aerospace engineer is a person who works with aircraft. He/she is involved primarily in designing aircraft, propulsion systems. An aerospace engineer also studies the aerodynamic performance of aircraft and construction material.
Students also liked
Top Recruiters for B.Tech Graduates
| | |
| --- | --- |
| | |
| HCL Technologies | IBM Global Services |
| TATA Consultancy | Hindustan Unilever Ltd |
| Myntra | Amazon |
| | Infosys Technologies |
| Intel | Amazon |
| | TATA Consultancy |
| Mahindra & Mahindra Ltd | Schlumberger |
Frequently Asked Question (FAQs) - B.Tech (Bachelor of Technology) Course, Eligibility, Subjects, Exams, Admission, Careers, Scope
Question: What is B Tech full form?
Answer:
full form of b tech is bachelor of technology which is an engineering programme at the college (https://ciwstudy.com/iit) level
Question: What can I opt for after B.Tech?
Answer:
After B.Tech, students can opt to pave their career by working or go for higher studies. They can complete their M.Tech or also opt for MBA.
Question: How many specializations are offered by B.Tech?
Answer:
B.Tech offers a variety of specializations. Students will have to select their preferred one during admissions. The specializations are Civil Engineering, Mechanical Engineering, Computer Science Engineering, Electrical Engineering and more.
Question: What is the admission process for IITs?
Answer:
For IIT admissions, the students will first have to attempt JEE Main. If they qualify JEE Main as one of the top 2,50,000 candidates, then they will be eligible for JEE Advanced. After qualifying JEE Advanced, they will have to participate in the common counselling process held by Joint Seat Allocation Authority (JoSAA). Admissions to IITs will be based on the ranks secured, preferences and availability of seats.
Question: What is the eligibility for B.Tech admissions?
Answer:
The candidates will have to qualify the 10+2th standard qualifying examination with PCM or PCB for admissions into B.Tech.
B.E /B.Tech Updates and Articles
View all details about Distance B.Tech courses like full form,...
03 Sep 2022