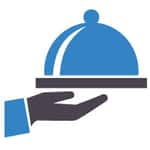 Hotel Management
Degrees offered: B.A., B.A.(Hons), B.B.A, B.Com, B.H.M., B.H.M.C.T., B.M.S
Q&A : 1.5 K Question
What is Hotel Management
What is Hotel Management?
Hotel management is a glamorous and exciting career, highly popular among students today. Among the many impacts that globalization has had on countless industries across the world, the hospitality and tourism industry has probably benefited the most. Hotels are a crucial component of the hospitality industry with the most growth potential in the future, considering the huge demand for these accommodations in the present day.
As a result, the demand for hotel management professionals, too, is enormous and continues to grow with the emergence of more hotels all over India. Jobs in Hotel Management include multiple areas of skills such as front office operation, food and beverage services, accounting and marketing.
Eligibility Criteria (UG & PG) of Hotel Management
Hotel Management Course Eligibility Criteria For Certificate:
Candidates must have passed class 10 or class 12 from a recognized board.
Hotel Management Course Eligibility Criteria For Diploma:
Candidates must have passed their class 12th examination.
Hotel Management Course Eligibility Criteria For PG Diploma:
Candidates are eligible if they have graduated in Hotel Management from a recognized university.
Hotel Management Course Eligibility Criteria For Bachelor in Hotel Management:
Students must have successfully passed in their class 12 qualifying examination from a recognized board.
Hotel Management Course Eligibility Criteria For Master of Hotel Management:
Candidates are eligible if they have completed a Bachelor's in Hotel Management with a minimum 50 per cent score in the qualifying exam.
Entrance Exams for Hotel Management Course
Hotel Management Course can be pursued at various levels, in various modes of study. One can study Hotel Management via a Certificate Program (online/offline), Diploma/PG Diploma, Bachelor, Master, and/or Doctorate level. Hotel Management certificate courses are offered in areas of specialization like Food and Beverages, Hotel and Hospitality Management, and Front Office Operation.
Admissions to online certificate programmes in hotel management are as simple as connecting to the website of the course provider, whereas in case of offline courses colleges accept candidates based on merit (Class 10/Class 12 scores). Diploma and PG Diploma courses in Hotel Management are offered for one year and one to two year duration respectively. Diploma courses are offered in three specializations: Hotel Management, Housekeeping, and Hotel Management and Catering Technology. PG Diploma, on the other hand, offers only Hotel Management.
Admissions to Hotel Management Courses are, once again, merit-based. Class 12 merit is considered for Diploma courses, whereas graduation level is considered for PG Diploma. As a prerequisite to studying Bachelor Hotel Management (BHM), aspirants must sit for entrance exams at the national, state, university level and/or exams conducted by hotels. Some of the most common entrance exams which grant admission to candidates in Hotel Management courses at both undergraduate and postgraduate levels are:
National Council for Hotel Management Joint Entrance Exam (NCHM JEE): Conducted by the National Testing Agency (NTA), the NCHM JEE is computer-based test conducted to offer admissions to undergraduate courses in the hospitality sector. Upon clearing this examination, students are eligible for Bachelor of Science programs in Hotel Administration and Hospitality offered jointly by Indira Gandhi National Open University (IGNOU) and the National Council for Hotel Management.
All India Management Association Undergraduate Aptitude Test Bachelor of Hotel Management (AIMA UGAT BHM): The AIMA UGAT BHM is conducted by the National Testing Agency (NTA) at the national level for aspirants seeking admission to the Hotel Management programme of study at the UG level in any of the participating institutes.
Army Institute of Hotel Management and Catering Technology Written Admission Test (AIHMCT WAT): This is a national university level entrance exam conducted by AIHMCT for admissions to its Bachelor of Hotel Management course.
Hotel Management at the PG level is offered in two courses: Master Hotel Management (MHM) and Master Tourism and Hotel Management (MTHM).
Admissions are granted based on merit in the majority case or, sometimes, through entrance exams conducted at the national level (NCHM JEE) or by some specific hotel-run institutes.
Also Read: Hotel Management Certification Courses
Scope of Hotel Management in India and Abroad
Scope of Hotel Management in India and abroad
A career in Hotel Management can take one's career in many different directions. Hotels, fast food chains, motels, resorts, restaurants, are the primary job fields in this sector. Among students, hospitality, as a career choice has gained popularity as more and more hotel industries, continue to expand their business in response to globalization.
India being a popular tourist destination, there are countless hotels in every city, both standalone and chains. The demand for more professionals in hotel management field to continue to fill job vacancies created by rapid business expansions is at an all-time high, and is not predicted to drop any time soon.
Outside India, the situation is pretty much the same, what with tourism and hospitality being one of the most profitable industries in most countries. An aspirant with an education in Hotel Management can receive employment opportunities with plenty of scope in any country outside India.
Course Fees Hotel Management
Minimum Fees
Maximum Fees
Private
Government
Private
Government
UG

7.61 K

B.Sc. in Hotel Management at Christ College, Irinjalakuda

10.44 K

B.Sc. in Hotel Management at Tamil Nadu Open University, Chennai

14.88 Lakhs

B.H.M. in Hotel Management at Welcomgroup Graduate School of Hotel Administration, Manipal University, Manipal

5.08 Lakhs

B.H.M.C.T. in Hotel Management at Tilak Maharashtra Vidyapeeth, Pune

PG

9.00 K

P.G.D in Hotel Management at All India Institute of Management Studies, Chennai

6.00 K

P.G.D in Hotel Management at Jai Narain Vyas University, Jodhpur

6.41 Lakhs

MBA in Hotel Management at KK Modi University, Durg

2.18 Lakhs

M.H.M.C.T. in Hotel Management at Institute of Hotel and Tourism Management, Maharshi Dayanand University, Rohtak

DOCTORAL

1.80 Lakhs

Ph.D in Hotel Management at Srinivas University, Mangalore

---

Data not available

3.60 Lakhs

Ph.D in Hotel Management at Srinivas University, Mangalore

---

Data not available

DIPLOMA

10.00 K

Diploma in Hotel Management at CMJ University, Shillong

4.50 K

Diploma in Hotel Management at Krishna Kanta Handiqui State Open University, Guwahati

4.75 Lakhs

Diploma in Hotel Management at GD Goenka University, Gurgaon

63.10 K

Diploma in Hotel Management at Institute of Hotel Management Catering Technology and Applied Nutrition, Kolkata
Course Subjects
Hotel Management Subjects
The subjects taught as part of the curriculum of various Hotel Management courses vary to a certain degree, but some common areas of study include:
| | |
| --- | --- |
| Foundation Course in Accommodation Operations | Food Production Operations |
| Foundation Course in Food Production | Food & Beverage Controls |
| Foundation Course in Food and Beverage Service | Food Safety and Quality |
| Foundation Course in Front Office Operations | Advanced Food and Beverage Operations |
| Nutrition | Financial Management |
| Hotel Engineering | Strategic Management |
| Principles of Food Science | Facility Planning |
| Accountancy | Food and Beverage Management |
| Communication | Accommodation Management |
Careers in Hotel Management
Careers in Hotel Management
With a plethora of options to choose from and myriad opportunities available to every competent professional, the field of Hotel Management is one with highly lucrative career prospects. The hospitality industry has many departments including accounting, front office, food and beverages, operations, and security among many others thereby your career options in the Hotel Management field will never be limited to any particular department of work.
Candidates who are passionate about entering this industry should pursue a hotel management degree to gather the necessary knowledge and skills. A great deal of luxury and glamour surrounds jobs in the hotel management sector, making it all the more attractive for many students. The work, however, is almost always hectic making it difficult to keep up with at times. With the right skills and training, however, aspirants can expect their careers to be highly rewarding and exciting.
Popular Online Hospitality Courses and Certifications
Upcoming trends
Hotel Management Upcoming Trends and Topics
In any field of work, the only way to ensure the continued success of a business is to be aware of and prepare accordingly for emerging trends and topics in the field. Some of the trends being speculated about in the Hotel Management industry are:
1. Sustainability as the future of hotels: More than 50% of global travellers have stated their determination to choose more sustainable accommodation. A lack of appealing options of this sort has made it difficult for these expectations to be met. Many millennials believe that a business's success is measured by its environmental impact. Therefore, hotels have gradually begun to monitor water usage, source food from local farms, and remove single-use plastics from their restaurants and dining centres.
2. Global thinking is essential to keeping up with globalization: According to studies, the hotel management industry is yet to see its peak in demand with increasing market demand for new tourist destinations that went unnoticed by previous generations.
There is an increase in demand for international travel because of post-recession spending and low employment rates. Therefore, hotel managers must begin to think bigger than they originally do.
Job Profiles and Top Recruiters
Job Profiles Offered to Hotel Management Graduates
Upon acquiring a degree in Hotel Management, an aspirant has many job profile options to choose from, in different lines of work. Some of the common job profiles opted for include:
| | |
| --- | --- |
| Job Profile | Responsibilities |
| | In charge of the kitchen, supervising workers who assist in the kitchen, ensuring all food preparations and operations are running smoothly, overseeing presentation and garnishing of food as well as the ideal seasonings |
| | Responsible for training staff and planning, promoting, organizing and managing hotel services like lodging facilities and catering. Responsible for making sure all aspects of the hotel are functioning smoothly and in sync with one another |
| Cabin Crew | Working on aircraft to ensure the passengers' comfort and safety, greeting passengers as they enter and leave, showing passengers to their seats and assisting those with disabilities or travelling with an infant |
| Front Desk Officer | Greeting guests to the hotel, receiving phone calls, issuing visitor badges, responding to customer requirements, sorting correspondence, maintaining cleanliness and organization in the reception area, ordering office supplies, updating records and files, receiving shipments |
| Catering Supervisor | Ensuring the maintaining of all food supplies by the catering company and stock inventory, ensuring that the catering company abides by all laws and regulations in food health |

Hotel Management: Top Recruiters
Some of the top recruiters, in various industries, of Hotel Management degree holders are:
| | |
| --- | --- |
| Indian Institute of Hotel Management | Trident |
| Sonar Bangla Institute of Hotel Management | The Park Hotels |
| Oberoi Group of Hotels | Praxis Services |
| Oberoi Hotels and Resorts | Novotel |
| The Lalit | The Leela Group Hotels |
Average Salary
Hotel Management Graduates Average Salary
The job profiles and career prospects in Hotel Management are countless; based on one's interests, one can explore various industries of work and gather valuable experience. The salaries earned by professionals in these various job profiles vary to a large degree, with experience and seniority level playing major roles in the average salary earned. The average salary earned by professionals in a few Hotel Management job profiles can be estimated as below:
| | |
| --- | --- |
| Job Profile | Average Annual Salary |
| Chef | Rs. 3 lakhs p.a. (Approx.) |
| Hotel Manager | Rs. 4 lakhs p.a. (Approx.) |
| Cabin Crew | Rs. 5 lakhs p.a. (Approx.) |
| Front Desk Officer | Rs. 3 lakhs p.a. (Approx.) |
| Catering Supervisor | Rs. 5 lakhs p.a. (Approx.) |
Required Skillset for Hotel Management
Skillsets Required for Hotel Management
A career in Hotel Management requires one to possess various job-specific skills, which if inculcated can help boost a professional's career trajectory. Some very important skills required for Hotel Management field of work are:
Customer Service skills: This is essentially a make-or-break skill in the hospitality sector. Ensuring your customers have everything they need and are having a great time is essential to a successful business in an industry that depends largely on customer satisfaction.

Cultural Awareness: In the hospitality industry, a majority of your customers as well as colleagues will be from abroad, or at least from different cultural backgrounds. Therefore, you must possess the ability to adapt to norms and attitudes vastly different from what you are familiar with.

Communication Skills: Needless to say, excellent communication skills are very critical to this field of work. A major part of a hotel management professional's day goes into communicating with customers, employees/employers, and colleagues.

Ability to Multitask: The hospitality industry is often known for its hectic nature, making it difficult to work in at times. A quiet day in the office does not seem to exist in this line of work, so one must strive to handle several tasks at once with the maximum possible efficiency in each. This involves learning how to manage time effectively and prioritize work.

Language Skills: While not mandatory to the job, language skills can be a huge bonus in hospitality, because it makes you the ideal candidate to work with wider ranges of clients, thereby opening up many new opportunities for you.
Course Curriculum for Hotel Management
Hotel Management- Course Curriculum
Any course in Hospitality, Tourism and Hotel Management is aimed at equipping students with the required knowledge, skills, training and attitude to efficiently handle as well as discharge supervisory duties and responsibilities. These courses also involve laboratory work for the in-depth development of required skill standards and knowledge in the operational sectors of Front Office Operation, Housekeeping, Food & Beverage Services, and Food Production.
Students also liked
Popular Hotel Management Entrance Exams in India
Popular Hotel Management Colleges in India VIEW ALL
Frequently Asked Questions (FAQs)
Question: How much does a Hotel Management course cost?
Answer :
The cost of a study depends on the institute with which you choose to pursue the course. Online certifications are plentiful, some are even free of cost; but typically, a course in Hotel Management (be it Diploma, Bachelor, Master or simply a certification) can range from Rs. 3000 to Rs. 1 lakh.
Question: Is a degree in Hotel Management worth it?
Answer :
The industry of hotel management is one which enjoys high demand and popularity among students. A Hotel Management degree opens up many doors for students, rendering them eligible for many prestigious, exciting job profiles that can lead to a very rewarding career. To sum up, yes, a Hotel Management degree is worth it for those who have a genuine interest in the hospitality sector.
Question: What is the duration of a course in Hotel Management?
Answer :
The duration of the programme depends on the level of study. At the undergraduate level, a Hotel Management course may be of 3 or 4 years' duration, at the postgraduate level, it is of a two-year duration. A Diploma course may be 6-12 months long and a certification course may range anywhere between 3 months to 1 year in duration.
Question: Are there scholarships available for pursuing Hotel Management certifications?
Answer :
Certain educational websites like Coursera offer scholarships and financial aid to students for pursuing courses of their choice. An application form requesting a scholarship must be submitted for the same.
Question: Can I pursue Hotel Management courses online?
Answer :
There are several online certificate courses in Hotel Management. Besides which, certain colleges offer distance education options, through which one can pursue a degree in Hotel Management online.
Questions related to Hotel Management
Showing 1337 out of 1337 Questions
Courses Similar to Hotel Management
Interested in Hotel Management? Find information around eligibility, career scope, jobs , colleges and exams and much more for free.